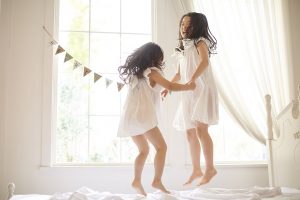 When your family needs a nanny on a regular basis, we take the time to get to know you, the personality of your children, and the kind of caretaker you imagine would fit right into the mix. Stanford Park Nannies has developed a five-step process to effectively guide you through your nanny search.
Registration Fee
Our $485 registration fee retains our services for your search and includes:

1 hour intake consultation with Rimma or Maggie
Comprehensive SPN Hiring Guide
1 year membership to Temporary and On-call Services
Access to candidates who have passed the Stanford Park Nannies' 21-Point Screen

Referral Fee
Full-time or Part-time – 18% of gross annual compensation (one time fee at time of placement)
What Can We Expect to Pay a Nanny?
The typical range for nanny salaries is $30-$40 per hour. The cost of a nanny will vary based on the nanny's individual qualifications and on the requirements of the job.
Search Process
Step 1
Registration/ Intake Consultation
Upon receiving your completed registration forms, we will schedule an intake consultation. Over the course of about one hour, we will learn about your family's unique needs and review the following with you:
Market conditions
Salary and Benefits
Tax and Labor laws
Pre-selected candidate resumes
Hiring Guidelines
After identifying candidates that suit your requirements, Stanford Park Nannies will arrange initial interviews for you at your convenience. Your next option is to conduct a one to five day working trial with the candidate(s) of your choice. This will offer you a chance to become better acquainted with the candidate and to get a clearer understanding of how she will perform with your family.
Stanford Park Nannies completes an evaluation/interview of each candidate's employment, as well as personal and educational references. At any time, the applicant's entire file is available for your review. You are welcome to speak directly with all of the candidate's references.
Stanford Park Nannies understands the importance of finding a trustworthy nanny for your family. In order to ensure your family's safety, we are proud to offer an extensive background check package, including the following:
Felony and Misdemeanor Report (All counties of residence)
TrustLine Registration
Department of Motor Vehicles Report
Social Security Verification
National Sex Offender Check
National Wants and Warrants Check
Step 5
Offer of Employment
Following a successful working interview and the completion of background checks, you have the option of extending an offer of employment or you may choose to continue reviewing additional candidates. Stanford Park Nannies will assist you in creating a written agreement outlining the terms of employment. This document will become the foundation for a smooth and successful working relationship between you and your new nanny.